Sceptre C248B-FWT168 24″ Curved Full HD Gaming Monitor 1920 x 1080 Full HD Resolution Refresh Rate Up to 165Hz Curvature Edgeless AMD FreesyncTM Premium 1500R Design.
Sceptre C248B-FWT168 Specs and Features
23.6″ 1920 x 1080 Full HD Resolution
R1500 Curvature
99% sRGB
AMD Freesync Premium
Edgeless Design
Blue Light Shift
Anti-Flicker
VESA Wall Mount Ready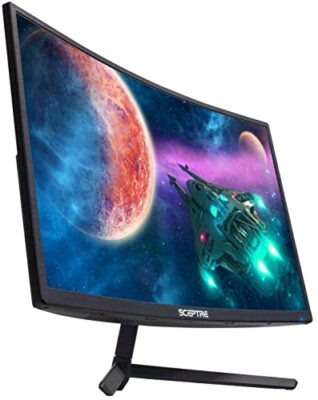 R1500 Curvature: The 1500R degree curved design thoroughly immerses you in the game world, enabling you to notice all dangers and chances before your adversaries.
99.9% sRGB: With 99.9% sRGB, Sceptre C248B-FWT168 monitor has a broader color gamut than most typical displays, resulting in richer colors and distinguishing details.
As high as 165Hz Refresh Rate: Stay ahead of the competition with a refresh rate of 165Hz, providing you a performance advantage as frames transition instantaneously.
VESA Wall Mount Pattern: The VESA wall mount pattern allows you to choose the best viewing position for your monitor, avoid cable clutter, and conserve precious space for your gaming and workstation.
Blue Light Shift: Reduce the blue light emitted by your display to protect your eyes from tiredness, discomfort, and strain. This allows you to work on projects, view movies, or play games for longer amounts of time.
Anti-Flicker: Sceptre C248B-FWT168 comes with an Anti-Flicker technology which provides a clearer image by preventing the illumination from flickering on and off.
Multiple Ports: While HDMI ports 2 and 3 give an excellent 144Hz refresh rate, a single DisplayPort and HDMI 1 create a dazzling 165Hz refresh rate in FHD quality.
AMD FreeSync Premium: Gamers may experience smooth visuals and flawless on-the-fly movement in fast-paced games with AMD FreeSync Premium. To avoid tearing and stuttering, the graphic card and display refresh rates are synced.
You may also like to read ASUS VP299CL Monitor and Sceptre C355W-3440UN Monitor Review
Tilt: C248B-FWT168 has a display that tilts 15 degrees backward and 5 degrees forward helps you to reach the sweet spot between clarity and comfort.
My Honest Sceptre C248B-FWT168 Gaming Monitor Review
Because I only have a laptop and no DisplayPort, I was seeking for a gaming monitor with both 144 and 165hz but also HDMI 2.0, and this monitor ended up being an excellent pick. The monitor is primarily used by my father for office work, so I have only used it a few times and cannot provide many personal views on color accuracy, but for the few times I've used it for gaming, the response time feels fantastic, though it does have a slight of ghosting inherent from being a VA panel, and the refresh rate is smooth, definitely smoother than 60hz, but I'm frankly not that knowledgeable with response time or colour reproduction anyway.
One thing is certain: the speakers are total garbage. If you're using this with a laptop, the speakers on the laptop are almost certainly better than these, so use the laptop's speakers or headphones. The ones that come with the monitor aren't even worth thinking about. I suppose they're there, but they're rubbish; don't use them or consider purchasing this monitor only for the speakers. If you can get over it, this Sceptre is a fantastic monitor for about $200.